Posted on November 18, 2011
At the moment Neopets is not fully functioning. Pages keep giving errors while some are not working at all. Here is a list of things that we have noticed not working:
- Premium neoboards, especially Charter
- Neomail
- Premium Portal
- Shop ads
- NC Mall and Qasalan Expellibox
- Anchor Management daily
- Pound
- Secret Laboratory

Huh? If we had something to do with this? Of course not... 0:)

Update: Things seem to be back to normal now. Let's hope it stays this way!
NeopetsCheats - News
Posted on November 15, 2011
Neopet's 12th Birthday
We at NeopetsCheats would like to wish neopets a very happy twelfth birthday!
To celebrate neopets are giving us a lot of goodies:
You can receive the Neopets Birthday Avatar at the

Neopets News

Page.
All neopets can train for free at the

Swashbucking Academy

If you haven't claimed your goody bag at the

NC mall

, don't forget!
Also remember the code BIRTHDAY12 when making NC purchases over 1000np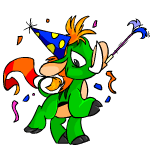 Time to Party!!!

Games Master Challenge Coming
Flex those fingers and practice those reflexes, the Games Master Challenge is just a week away!
Are you ready for a challenge? Well, even if you aren't, the Games Master Challenge is only a week away! We heard even Abigail has been practicing all month for it. 😉

That's a stare I don't want to mess with

NeopetsCheats - News
Posted on November 14, 2011
To celebrate the 12th birthday of Neopets on November 15th, a special gift bag has been released in the NC Mall.


*some refreshing may be necessary before the bag appears
If you decide to open your bag, you will receive a new wearable for your pet!



Spinning Neopian Globe Staff
It seems that the staff over at Neopets are in such a festive mood, they have also decided to give all players with access to the NC Mall 150NC off any purchase of 1000 NC or more. Simply enter the code BIRTHDAY12 into the discount box at checkout to receive your reduced price!
*This offer ends November 20th, 2011
Unreleased Neopets News From NeopetsCheats