Posted on May 1, 2016
Image click, negg hunt 1-click
Video Rating: 0 / 5
Posted on March 26, 2013
Visit our guide to see complete Festival of Negg 2013 prizes!
Get an exclusive sneak peek at Negg themed books, toys, weapons, wearables and more!




VIEW OUR GUIDE \ Honest Pete Guide
Unreleased Neopets News From NeopetsCheats
Posted on December 13, 2012
The Holiday Dream Neopet Giveaway is back!
It is back again to spread the holiday cheer! Most Neopians save up to get their dream Neopet... and we wanted to give you a chance to win yours for the holidays. Visit the Holiday Dream Neopet Giveaway page for a chance to transform one of your Neopets into your dream colour and species! If you are one of the lucky ten to be chosen, you will wake up to your Dream Neopet on Day of Giving morning (Dec 25th)! 🙂
If you don't know what to choose for your dreampet, why not have a look at our Rainbow Pool?
So many great new colours to choose from...
---
Also, you mighty have noticed the pretty wings you got from the Advent Calender look slightly different now:
Advent Calendar Prize Update - Remember that whole Real Negg Faerie Wings NC prize on Day 6, where they looked like another item that was already given out during the Negg Festival? Yeah, sorry about that. We'll be replacing the newer, duplicate wings today so they'll no longer be the same. Hooray! The name will change this afternoon, and the art will update later tonight/early tomorrow morning. Sorry again for the duplicate. The Real Negg Faerie pulled one over on us because he's sneaky like that.
They are now called Homemade Lavender Faerie Wings.
NeopetsCheats - News
Posted on August 28, 2012
The Mysterious Negg Cave is back and available as a new daily!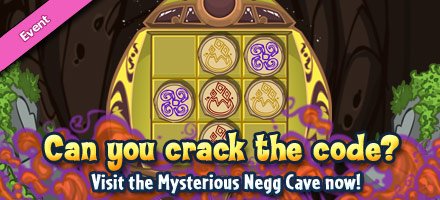 Crack the code and get a prize!
Stuck? Don't know what on earth to do? We have a spiffy new guide here!
For puzzle help please post here. For prize information, please post here.
Unreleased Neopets News From NeopetsCheats
Posted on August 28, 2012
For those of you who loved the negg-breaker puzzle from this spring's Negg Journey event, there is some good news. Now the Mysterious Negg Cave has turned into a daily, where you can solve a negg-puzzle every day to earn a prize! It seems the prizes are Shenkuu related items, like Artichoke Dumplings and Bottle of Shenkuu Ink.
Also, if you don't have the Neggbreaker as a battledome challenger yet, or didn't recieve the Beware the Neggbreaker avatar during the Negg Journey, there is now a chance to get those as a random prize.
If you can't remember anymore what the Negg Journey was all about, our Negg Journey guide is still availible, even though you can't do any of it's steps anymore.

Get ready to beat the Neggbreaker again!

NeopetsCheats - News
Popular Tags: