Posted on February 12, 2012
The new Rubbish avatar has caused quite some commotion. First the glitch, and then finding out how to actually unlock it properly. It has taken a lot of our staffmembers here at NeopetsCheats two days or discarding items in order to get it. So it was time for a guide! Read our brand new Rubbish Avatar guide for some help at unlocking the avatar. Have fun!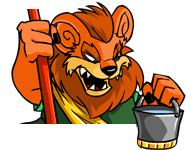 Two days? I've spent my entire life trying to clean up Neopets and I am STILL not done!

NeopetsCheats - News