Posted on February 10, 2016
We finally have a
Wheel of Monotony Guide
! Learn what each result yields and decide whether or not you've got the time and patience to take a spin.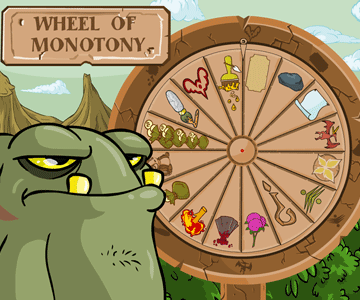 I've got a few hours the day to spare...
We've also updated the font for this avatar. So if you are lucky to land on the question mark, there is a great new font for you.
This is how your post will look on the Neoboards.

❘❙❚Monotony! Spend the day in Tyrannia…
    ▔▔▔▔↻▔

neoHTML


siggy
We've also added a Mood Indicator featuring the rather limited emotions quiggle who hosts the Wheel of Monotony. Notice, this Mood Indicator has the standard Happy and Sad. However in replace of Angry and Sick, we've used Annoyed and Bored

I'm quite annoyed this is my only graphic...

If you know what the text says for when you win the paintbrush, please

Contact us

!
NeopetsCheats - News